Okay, citizens of West Virginia, this is your opportunity to step up and join in the fight against crime.
If you have any information about these crimes or any crime, you are urged to call Crime Stoppers of West Virginia at 304-255-STOP (255-7867) or submit a Web Tip. You do not have to give your name. You will be assigned a code number whether you call or submit a web-tip and that code number becomes your name to Crime Stoppers.
CRIME STOPPERS of West Virginia will pay a cash reward of up to $1,000.00 and you will remain anonymous throughout the entire process. You will give your information under that code number and be paid a reward under that code number, without ever revealing your name. We do not want to know your name, we just want your valuable information!!
OR, IF YOU PREFER, YOU MAY CONTACT THE INDICATED LAW ENFORCEMENT AGENCY INVESTIGATING THE CRIME DIRECTLY.
Memorial Babtist Church - Beckley, West Virginia
May 01, 2017
Police are asking for help from the community to track down the people who took a heat pump from Memorial Baptist Church over the weekend of April 29 and 30, 2017. The heat pump was taken and investigators said the suspects did thousands of dollars in damage to the church`s HVAC system.
Detectives are currently trying to locate witnesses and video surveillance from nearby businesses.
Anyone with information on the theft is asked to contact the Beckley Police Department at 304-256-1708. Tips can also be left with CrimeStoppers of West Virginia at 304-255-STOP (7867) or by our website: www.crimestopperswv.com.
Anonymous information can also be left by using the P3 Tips App available for free in the APP Store on your phone or mobile device.
---
VANDALISM AT BROOKSIDE CAMP NEAR HINTON
July 01, 2014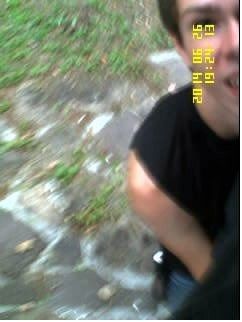 National Park Service reports that on June 26th at approximately 7:30 PM, Brookside Camp (along Route 20 near Hinton in Summers County) was vandalized, with at least two young men participating in the vandalism. Brookside Camp is being rehabilitated to serve the youth of the area by the National Park Service.
If you have any information on this crime, please contact Crime Stoppers at 304-255-STOP or leave a tip on this website.
---
THEFT OF SIDE-BY-SIDE 4-WHEELER Beckley Pocahontas Coal Office
July 16, 2013
BECKLEY POCAHONTAS COAL OFFICE
109 Appalachian Drive, Beckley, WV
Side-by-side 4-wheeler
On July 6th at 7:00 PM, suspects driving silver Pontiac cut lock on side-by-side 4-wheeler at the Beckley Pocahontas Coal Office at 109 Appalachian Drive in Beckley. Suspects returned at 9:30 PM driving a new blue Ford 150 with tags hanging in front window from rear view mirror and removed the 4-wheeler on trailer attached to suspect vehicle (pictured).
Suspect: Caucasian male, average height, approx 260 lbs, gray t-shirt and gray shorts.
---
NATIONAL TV & APPLIANCE Beckley YEAR: 2007
March 21, 2013
NATIONAL TV & APPLIANCE
BREAKING & ENTERING
OCTOBER, 2007
BACKING UP IN TIME: On October 1, 2007, Beckley Police responded to a Breaking & Entering at National TV & Appliance at 1412 N. Eisenhower Drive. The suspect(s) had disabled the alarm system prior to breaking into the business. Suspect(s) stole twenty-two (22) flat screen televisions, several furniture items and the safe. A tractor trailer type vehicle was seen parked at the business during the time of this theft. The safe was recovered along with several other safes from various business break-ins in the area around the same time frame. The safes were located in the woods behind the YMCA Paul Cline Memorial Youth Soccer Complex. Anyone with information on this crime is urged to contact Crime Stoppers or the investigating officer, Detective Sergeant D. S. Allard with the Beckley Police Department.
---
ST. FRANCIS DE SALES SCHOOL, BECKLEY, WV, MARCH 2009
March 14, 2013
ST. FRANCIS DE SALES SCHOOL
BECKLEY, WV
MARCH 5, 2009
On March 5, 2009, a white male and white female broke into the St. Francis de Sales School on S. Oakwood Avenue in Beckley. The two individuals broke into the principal`s office and stole several hundred dollars in cash. It is believed that the individuals responsible lived close to the school at the time - possibly on Burgess Street.
Detective/Sgt. D. S. Allard with Beckley Police Department is the investigating officer (304-255-1708)
---
J & S PAWN SHOP Beckley WV
March 07, 2013
J & S PAWN SHOP
311 N. Eisenhower Drive, Beckley WV
Breaking / Entering on January 18, 2013
On January 18, 2013, at approximately 9:50 PM the J & S Pawn Shop at 311 N. Eisenhower Drive in Beckley was broken into. The suspect stole several electronic items and a paintball gun. The suspect wore very distinct clothing. Images of the suspect were captured on video surveillance.
---
BURGLARIES IN GLEN MORGAN, BEAVER, SHADY SPRING & GHENT
February 07, 2013
STRING OF BURGLARIES
GLEN MORGAN, BEAVER, SHADY SPRING & GHENT
There has been a string of burglaries since December in Glen Morgan, Shady Spring, Beaver and Ghent. Similarities signal they may be the work of one person or a group of individuals. Various items have been stolen, however the focus seems to be on jewelry, cash, firearms and prescription drugs.
NOTE: From the comfort and safety of your home, you can provide information to Crime Stoppers that will lead to the arrest of the subjects responsible for these burglaries. Your identity will never be known and you, the Tipster, without taking any risks or leaving the comfort of your home, will receive as much reward money for your tip as the thief or thieves committing these crimes make in a day`s or night`s work while risking capture and prison time. All you, the Tipster, has to do is dial a telephone number or type in a web site address. Now that`s smart, fast and easy cash!!!
---
HOME INVASION & ASSAULT Prudence Rd / Fayette Co
January 29, 2013
HOME INVASION / ASSAULT
PRUDENCE ROAD / FAYETTE CO
In the morning hours of January 29, 2013, two male subjects gained entry to a Prudence Road residence by breaking out a window. They found the homeowner in his bed at the other end of the residence and beat him with a portable heater while demanding his prescription medication. The victim did not comply with their demands. The subjects did find and take a controlled subsance, however, they did not find the victim`s most recently obtained medications. Due to the seriousness of the injuries sustained by the victim, he could not give detailed description of the subjects at the time of the incident, but did state that they were wearing masks and one was wearing a camouflage jacket.
---
SCHEWEL FURNITURE Beckley WV
January 23, 2013
SCHEWELS FURNITURE
The Beckley Police Department isinvestigating the breaking and entering of Schewels Furniture at 200 Beckley Plaza. The store was broken into and merchandie stolen during the night of January 23rd or early morning hours of January 24th.
---
Dunham's Suspect pic
January 17, 2013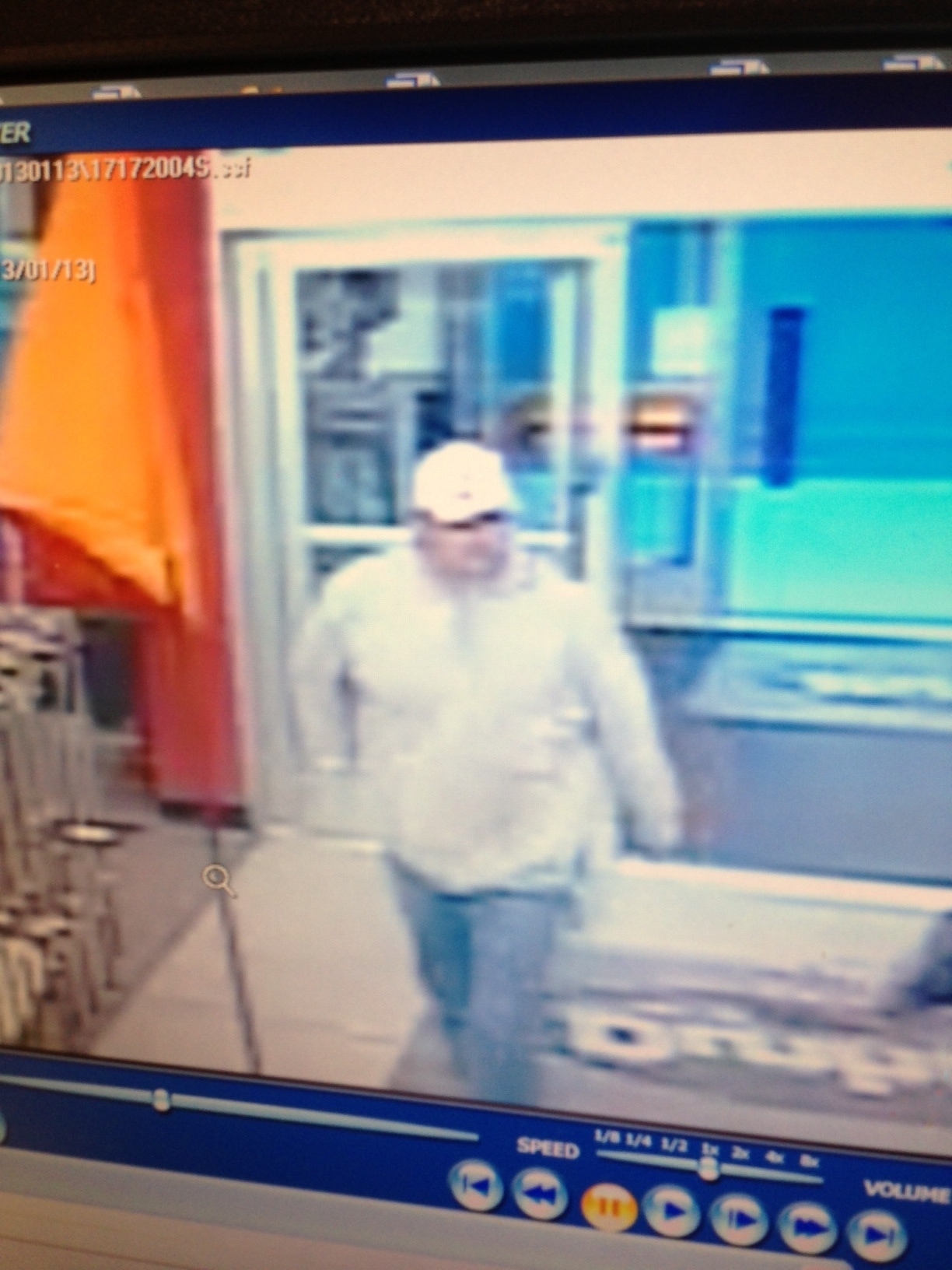 ---
DUNHAM'S in Beckley (Theft of Crossbows)
January 17, 2013
On January 13, 2013, at approximately 5:15 PM, a male subject entered Dunham`s in Beckley and walked out with crossbows exceeding a value of $1,000.00. The suspect appeared to be a white male, approximately 6` tall, weighing approximately 200 lbs., wearing a gray hooded sweatshirt, blue jeans and a white cap. The suspect got into a full size Dodge pick-up truck with an extended cab.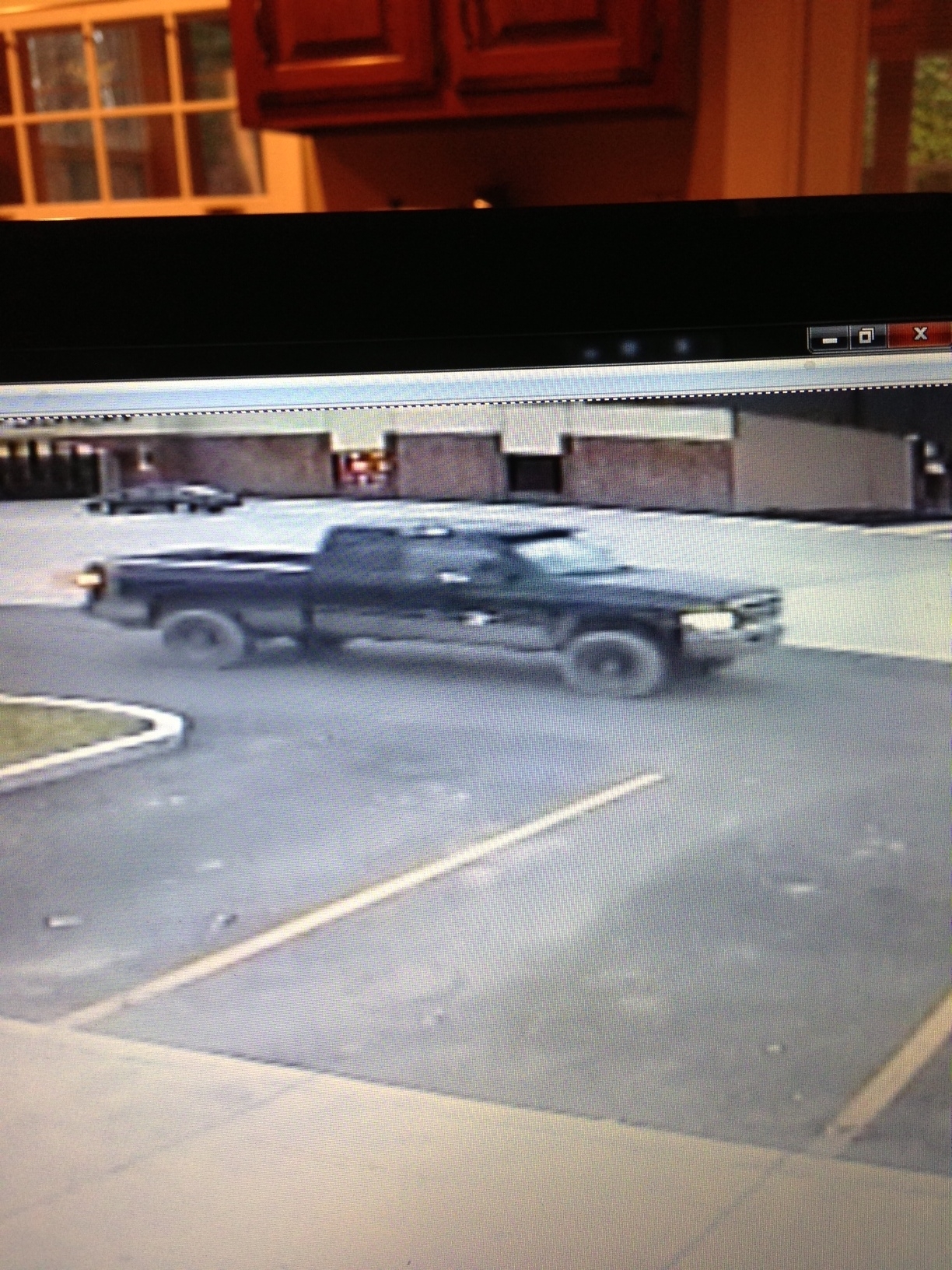 ---
RIVIERA MINI-STORAGE Beckley
January 03, 2013
The Raleigh County Sheriffs Office is investigating the break-in of several storage units of Riviera Mini Stgorage located at 120 Hankwoods Drive in Beckley. The break-ins occurred during the night of Janauary 3rd or early morning hours of January 4th.
---
HOT SPOT - SOUTH FAYETTE STREET - ROBBERY
November 26, 2012
The Raleigh County Sheriff`s Office is investigating an armed robbery that occurred at the `HOT SPOT` on South Fayette Street on November 26th at approximately 2:00 AM. Two males wearing masks entered the busines, brandished a handgun and demanded money from the clerk.
---
STOLEN PURSE SEPT 20TH FROM STANAFORD ROAD MEDICAL OFFICE
November 15, 2012
The Beckley Police Department is investigating the theft of a purse from a medical office at 250 Stanaford Road on September 20th at approximately 1:00 PM. Later that day the White female in the gray T-shirt and blue jeans with dark hair pulled back in the picture below on security surveillance camera attempted to use a credit card belonging to the victim. The female may be the one who stole the purse.
The vehicle pulling away from the pump in the background is the suspect`s vehicle. (Click on pic of vehicles to enlarge)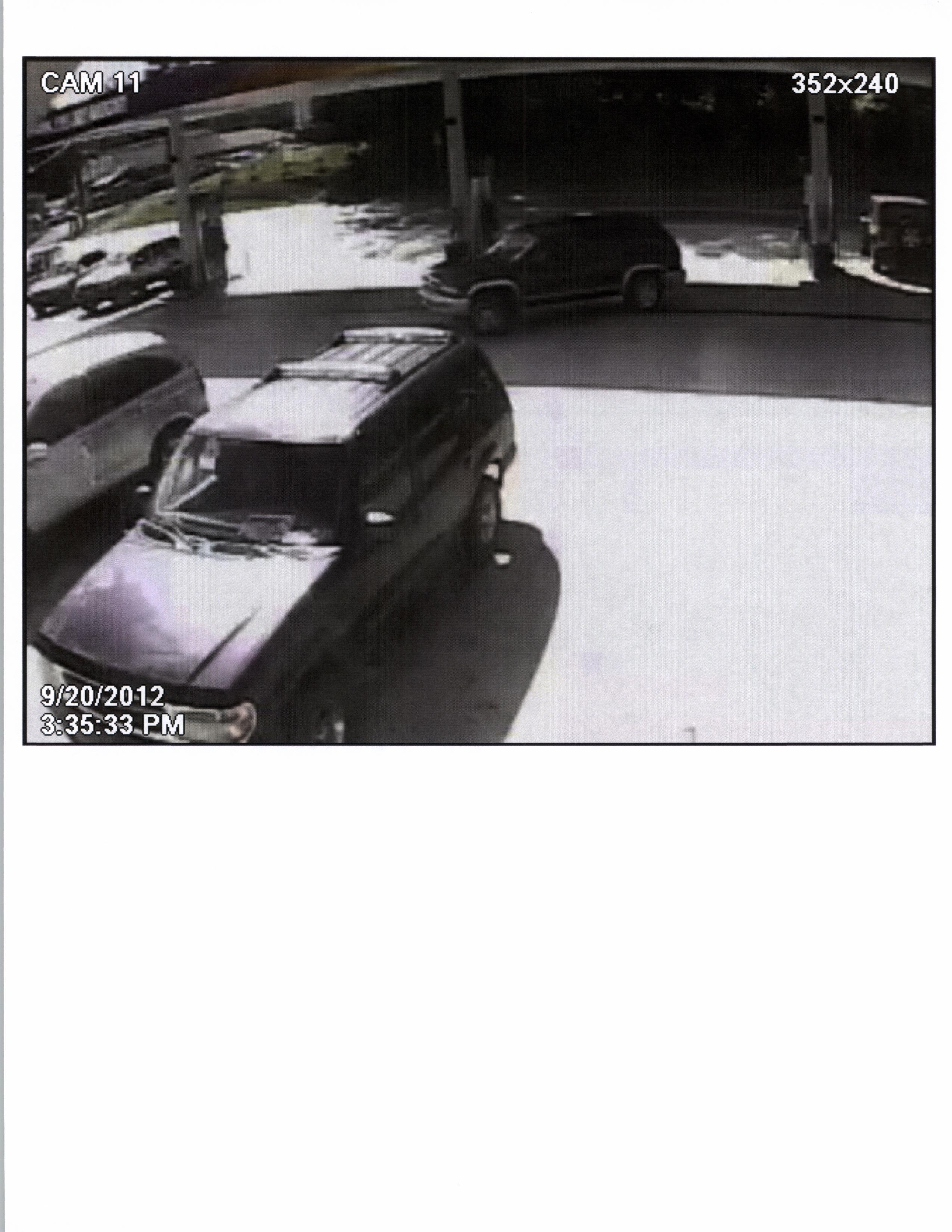 ---
GODFATHER'S LIQUOR - BRADLEY - B & E ON 10/22/12
October 25, 2012
The Raleigh County Sheriff`s Office is investigating a Breaking & Entering that occurred at Godfather`s Liquor in Bradley on October 22nd at approximately 11:40 PM. Two individuals wearing masks forced entry into the store after the business was closed and stole merchandise from the store. Surveillance pictures below:
---
HOME INVASION - SHOTS FIRED DOTHAN AREA Oct 11th
October 18, 2012
Just before 2:00 AM on Thursday, October 11th a 70 year old female was awakened by the burglar alarm at her residence in the Dothan area. Arming herself wih a gun, she approached the rear door of her residence at which time she was startled by a suspect who punched her in the face. The victim shot at the suspect who turned and fled from the residence. The burglar had cut through a screen and broken a window in the rear door to gain entrance.
---
MURDER OF SHAWN RUCKER on September 26th
October 04, 2012
CASE SOLVED - ARRESTS MADE On September 26, 2012, at approximately 10:49 PM the Beckley Police Department responded to 100 6th Street reference to a shooting that had just occurred. Upon arrival officers located the victim SHAWN RUCKER a 32 year old Black male laying n the front yard of the residence with multiple gunshot wounds. The victim was transported to Raleigh General Hospital where he was pronounced dead. Seveeral Black males wearing dark clothing and hooded sweatshirts were observed in the area just prior to the shooting.
---
ROBBERY Sept 1st - FAMILY DOLLAR Glen Daniel
September 06, 2012
The Raleigh County Sheriff`s Office is investigating a robbery at the Family Dollar at 121 Commerce Court in Glen Daniel on Saturday, September 1st at approximately 8:50 PM. The robber is described as a male, approximately 5`2" with light colored eyes, wearing a red hoodie and a mask and brandishing a crowbar. The robber left on foot, but is believed to have fled on an ATV which was hidden in the area.
---
July - THEFT & ARSON OF RED 2012 BMW Ghent WV
August 30, 2012
The West Virginia State Police are investigating the theft of a red 2012 BMW X5 from the garage of a residence on Flat Top Road in Ghent betwen July 5th and July 10th. The BMW was recovered in the Crab Orchard area where the perpetrator(s) had abandoned and burned the vehicle.
---
ROBBERY OF LITTLE GENERAL IN BRADLEY on August 18th
August 23, 2012
On Saturday, August 18th at approximately 10:00 PM, a male wearing a black and white flannel hoodie and a pink cloth over his face robbed the Little General in Bradley (across from the CrossRoads Mall). The male put his hand in his pocket as if he was armed and demanded money. The clerk gave the male money and the male then left the area in a white car with a spoiler on the trunk lid.
---
| | | |
| --- | --- | --- |
| Page 1 of 5 | 82 Records | Prev | Next |